Posted on Mar 22nd 2011
The marketing team is in Silicon Valley this week exhibiting at the annual EclipseCon conference; an event for Eclipse developers to see the latest and greatest in Eclipse technologies. Both Jens and Jason are onsite demonstrating Genuitec's MobiOne; a drag-n-drop iOS application designer for Windows machines. And OneInstall, the newest technology from Genuitec that is a cross-platform installer that creates Java and Eclipse installers in a matter of minutes for Mac, Windows and Linux operating systems.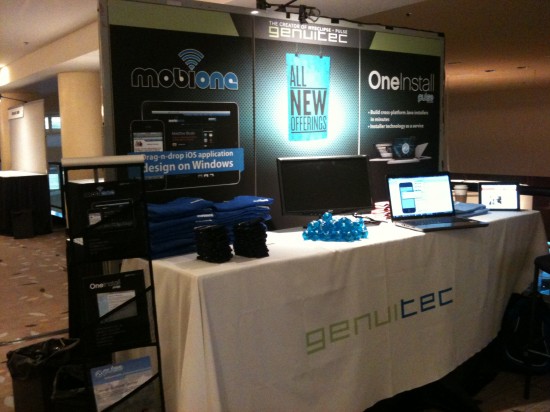 If you're here stop by the booth, get some free t-shirts and learn about what we're up to these days.
Cheers!
Posted on Mar 15th 2011
Today we announced the competitive pricing model for our newly-released OneInstall; the first installation Software-as-a-Service solution (iSaaS). OneInstall is a powerful, cross-platform software delivery and installation technology that is used by millions of customers worldwide in select distribution; it is now available to the public for the first time and is priced substantially lower than the competition starting at just $95.
Watch the Skype video below to learn why you, the software developer, may only need at 15-day, $95 license to send your software to user's desktops:
Compared to competing solutions such as InstallShield and InstallAnywhere, OneInstall is available with a flexible, three-tiered pricing model:
1. For start-ups or small operations that need to get their software to market fast or companies that need to perform "hot fixes" or updates to their deployed software it is just $95 for 15 days of unlimited installer builds. That allows you the ability to white label, or fully customize the installer with corporate branding and many other features to provide exceptional customer experience. It is fully supported by our staff at this price and includes customer analytics of the deployed software. Installers created with this model do not ever expire.
2. The same power (with included support) is available to organizations that conduct frequent software builds and testing for an annual price of $495.
3. For enterprises that do not want to worry about Software-as-a-Service (SaaS), the more traditional, perpetual license (or forever license) is available for $995.
All pricing models include updates, powerful use-case analytics through Genuitec's Pulse platform, and are fully supported.
OneInstall is currently used by select Fortune 100 enterprises that deliver their software to millions of users and internal staff. Genuitec uses OneInstall to deliver both its MyEclipse and MobiOne product lines, where it has proved an unbreakable software delivery mechanism that behaves with a level of intelligence not found in other software distribution offerings.
OneInstall seamlessly creates installer solutions for Windows, Mac OSX and Linux.
Developers can try for OneInstall for free by visiting: http://www.poweredbypulse.com/oneinstall.php
Try it today for your software delivery needs, you'll be happy you did.
Posted on Mar 10th 2011
Today we're pleased announced the immediate availability of Genuitec's newest product, OneInstall. It's the all-in-one installer that makes it easy for you to customize, package and install software for any computer system. We're spearheading the concept of Installation Software-as-a-Service (iSaaS), as noted by Dr. Dobb's Journal, by accommodating start-ups and enterprises that need a fast, yet powerful software delivery solution for their products. As it stands, and under intense competitive scrutiny, OneInstall is the most affordable and powerful installer on the market, already outpacing established brands.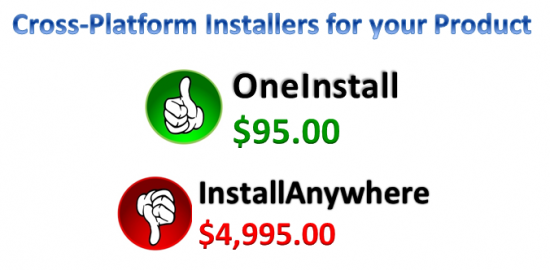 Here's the competitive kicker: for only US $95, OneInstall's iSaaS technology allows for 15 days of unlimited, powerful software delivery technology that provides the familiar Java platform experience for developers to create signed executables and native executables. So, you can pay as you go or get it for a full year as a service. So, unlike competitors, OneInstall is wildly accessible; it enables full corporate branding and formatting, as well as the ability to deliver reliably with desktop virus scanners that are known to  break the distribution process. And even at that low price, OneInstall is fully supported by our dedicated staff  - that alone is something you'll pay extra for with other brands.
Already used by technology giants worldwide, we use OneInstall for our MyEclipse and MobiOne product lines, where it has been utilized by millions of customers globally. Now available to the public for the first time, companies can opt to buy a traditional perpetual license (forever license with limited upgrades) of OneInstall for US $995, or a iSaaS license. An annual license of OneInstall as a service is available for $495 or the 15-day license for $95 can be utilized. All iSaaS licenses include full support and upgrades.
Not satisfied yet? Then please review case studies and white papers from Fortune 100 companies that rely on OneInstall-based technologies to solve their software delivery and management needs here.
Developers can try for OneInstall for free by visiting this link.  Try the free version to rapidly test OneInstall with your software to see installers built in a matter of minutes that can be delivered to Windows, Mac OSX and Linux operating systems.