Posted on Jun 27th 2011
---
Update: Development of MobiOne has been discontinued. Read the End of Life Notice for more information.
---

Using the MobiOne Visual Designer, it is simple to configure components in your application to place calls, send an email, or send a text message (SMS). The process involves configuring the Link property of the component, such as a button, that will initiate the communication. You enter a special URL in the Link property identifying the communications protocol and recipient.
Placing a Call
Telephone URL format: tel:telephone-number-to-dial
Example: tel:555-123-4567
Note: Dashes in the telephone-number-to-dial are optional.
In the example below, when the user taps the Place Call button, the device initiates the calling sequence to the phone number specified in the URL, e.g., 555-123-4567.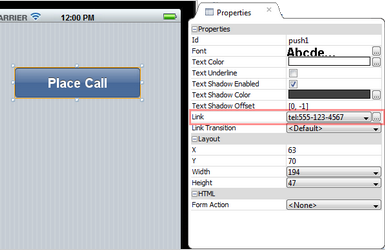 Learn how to do more app outbound communications at this link, then explore the resources to fully learn the power of MobiOne.
Cheers!