Posted on Jul 13th 2011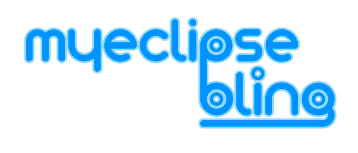 Along with Skyway Software, we are thrilled to announce a break-through in IDEs with the release of "MyEclipse Bling." While the term is slang for flashy jewelry, the name has its roots in a combination of two revolutionary products, MyEclipse Blue Edition (the smart alternative to Rational® tooling) and MyEclipse for Spring:
Blue + Spring = Bling
What's flashy about MyEclipse Bling? It's a break-through technology allowing IBM® shops to fully and completely adopt Spring technologies in their WebSphere®-deployable applications all the way from inception through production release.
This is a revolutionary product launch for Genuitec and Skyway, our clients asked if we could support WebSphere the way they needed; they asked for the advanced tooling already available in MyEclipse for Spring; and asked if we would be willing to stay true to our low pricing models in a combined offering. We delivered on those requests by building a software development environment that is a smart alternative to Rational® in price and ease of use, while providing industry-leading Spring development tools. It really does allow IBM® shops to achieve the most value - and power – when using WebSphere.®
Bling seamlessly integrates with WebSphere® to deploy rich applications, while using Spring code generation tools to create many project types simultaneously. With Bling, you can scaffold and bootstrap projects for iPhone, Adobe Flex, Spring MVC, Spring Web Flow, JSF 2.0 and more, even readying projects for Google App Engine if desired. MyEclipse Bling is current too, in a bleeding edge sort of way, with support for Java EE 6, HTML 5, control of EJB and EAR deployments, Windows and Linux support, ICEFaces 2, JSF 2.0 and JPA 2.0. There are world class Java Editors, HTML Editors, Inspectors, Maven, Hibernate, ALM dashboards (look it up, it's really cool), project team synchronization, and lots more.
Why bother with the laundry list? It's because many companies that utilize WebSphere® are becoming wary of the limits that IBM Rational® tools force upon users: high costs of ownership, heavyweight installations and lack of advanced support for popular open source technologies. Bling has the key tools discerning shops need to keep pace in today's elastic technology environments.
Bling is only $250 compared to, well, everyone who makes powerful, expensive IDEs and then asks more for support, asks more money for upgrades and even more for your infrastructure upgrades required to run it all.
Learn more: http://www.myeclipseide.com/bling
See Bling in action: