Posted on Mar 10th 2011
---
Update: Development of MobiOne has been discontinued. Read the End of Life Notice for more information.
---
Today we're pleased announced the immediate availability of Genuitec's newest product, OneInstall. It's the all-in-one installer that makes it easy for you to customize, package and install software for any computer system. We're spearheading the concept of Installation Software-as-a-Service (iSaaS), as noted by Dr. Dobb's Journal, by accommodating start-ups and enterprises that need a fast, yet powerful software delivery solution for their products. As it stands, and under intense competitive scrutiny, OneInstall is the most affordable and powerful installer on the market, already outpacing established brands.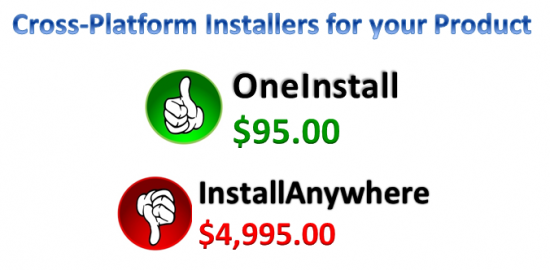 Here's the competitive kicker: for only US $95, OneInstall's iSaaS technology allows for 15 days of unlimited, powerful software delivery technology that provides the familiar Java platform experience for developers to create signed executables and native executables. So, you can pay as you go or get it for a full year as a service. So, unlike competitors, OneInstall is wildly accessible; it enables full corporate branding and formatting, as well as the ability to deliver reliably with desktop virus scanners that are known to  break the distribution process. And even at that low price, OneInstall is fully supported by our dedicated staff  - that alone is something you'll pay extra for with other brands.
Already used by technology giants worldwide, we use OneInstall for our MyEclipse and MobiOne product lines, where it has been utilized by millions of customers globally. Now available to the public for the first time, companies can opt to buy a traditional perpetual license (forever license with limited upgrades) of OneInstall for US $995, or a iSaaS license. An annual license of OneInstall as a service is available for $495 or the 15-day license for $95 can be utilized. All iSaaS licenses include full support and upgrades.
Not satisfied yet? Then please review case studies and white papers from Fortune 100 companies that rely on OneInstall-based technologies to solve their software delivery and management needs here.
Developers can try for OneInstall for free by visiting this link.  Try the free version to rapidly test OneInstall with your software to see installers built in a matter of minutes that can be delivered to Windows, Mac OSX and Linux operating systems.