Posted on Jun 5th 2012
---
Update: Development of MobiOne has been discontinued. Read the End of Life Notice for more information.
---
MobiOne 2.0 auto-scales apps to Android and iOS devices for true "write-once deploy anywhere" app building for iPhone, iPad, HTC, Amazon and Samsung on Windows OS
We did it! And no other company is even close - not only can you use your Windows machine to create iOS apps that are App Store ready, you can write both an iOS and Android app that auto-scales to the most popular Android devices like Android Nexus S, a 7" tablet and Samsung Tab 10.1, many others too. (Not to mention you can create a Web app too).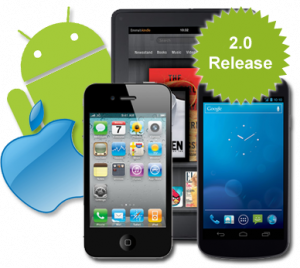 MobiOne now brings its intuitive what-you-see-is-what-you-get (WYSIWYG) iOS visual app development, testing tools, cloud-based app builder and distribution services to the Android mobile platform. True "write once, run anywhere" apps are now possible, as MobiOne apps can auto-scale their user interface to operate on Android and iOS devices.
MobiOne's cross-platform apps are built on the popular HTML5 hybrid-native app model using the open-source Cordova/PhoneGap ™ framework. Optionally, users may choose to create an optimized mobile webapp or web site. The HTML5 web programming technologies offer a low cost of ownership and are simple to learn and use.
Join us for a webinar on June 14 at 12:00 P.M. EST to see MobiOne in action:https://www2.gotomeeting.com/register/733314674
MobiOne has several standout features that class it above the competition:
1. Extensive use of the WYSIWYG visual paradigm across MobiOne's developer tools makes it the most intuitive and easy to use cross-platform mobile application IDE available
2. No coding skills are needed to get started creating professional business and social apps. The intuitive drag-n-drop visual designer provides true What-You-See-Is-What-You-Get (WYSIWYG) feedback of your user interface's styling and layout
3. MobiOne apps will auto-scale to fit the many screen resolutions of Android and iOS devices - true "write once, run anywhere."
4. MobiOne Design Center automation generates application code based on the popular hybrid application architecture using the open HTML5 and Cordova/PhoneGap technologies
5. Runs on Windows. To create App Store-ready native apps, no Mac is needed to build iOS app nor is it necessary to learn Apple's Objective-C or Android's Java coding languages
6. App testing on your mobile devices is made easy using the MobiOne App Center Builder and Distributer cloud services. Share your app with one or more testers via email notification that includes the ability to launch an over-the-air installer for your app. Alternately, developers can test seamlessly with the world-class MobiOne iOS and Android mobile emulators.
Try for free today: https://www.genuitec.com/mobile/index.html