Posted on Aug 19th 2011
---
Update: Development of MobiOne has been discontinued. Read the End of Life Notice for more information.
---
The Design Center includes an outline view for visualizing and modifying the hierarchical structure of design components. The hierarchy is presented in the form of a component tree similar to how Windows Explorer presents the hierarchy of folders and files. The components in the tree are either containers of other components or simple components. Example containers include Panel, Navigation Bar and List. Examples of simple components include Text, Link and Toggle. Containers are depicted in the tree with a plus sign, indicating that there are components contained within. The top-most component represents the Design Form.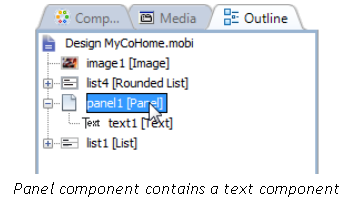 Read more of this article, here.