Posted on Aug 20th 2010
---
Update: Development of MobiOne has been discontinued. Read the End of Life Notice for more information.
---
MobiOne Studio is updated with more user interface (UI) components, more integration, more power, giving you  more success. MobiOne is designed for non-developers to easily create mobile Web apps just like creating a PowerPoint presentation.
MobiOne Studio 1.0 Milestone-9 Update-2 (download) now provides more iPhone UI design components, more native app look & feel features, early integration with Web services and improved AppSync services for testing on your actual iPhone or sharing with clients and collaborators. Check out the new features and enhancements below and see if you don't agree that MobiOne is a best-in-class technology.
New UI Components
* Select List - single & multiple selection
* Select List Item - drag-n-drop into any Select List
* Select List Menu - single & multiple selection with spinner or list display mode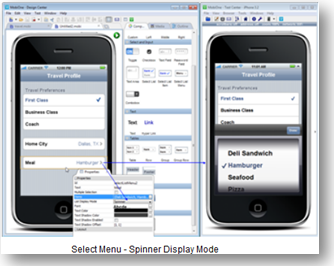 Native Look & Feel Properties
* Added support for off-line operations, new Application Title property, renamed Webclip Icon property t0 Application Icon
* Test Center iPhone emulator now provides spinner selection for HTML
Web Services & Data integration (Form Support)
* Create HTML forms with GET & POST submit protocol; see the new design Form properties
* Buttons now include an optional Form Action property for Submit and Reset actions
* Ajax submit with auto-transition of UI upon success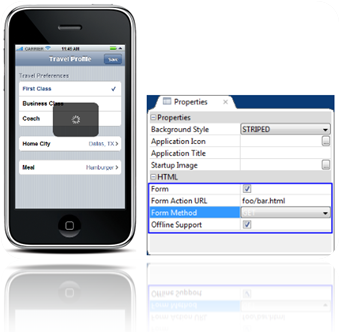 Send To Phone - AppSync Improvements
Test Center is able to upload any HTML5 webapp with a manifest file. The Test Center provides a new upload dialog that allows you to customize the webapp resources to upload to AppSync.
Warning notification is now provided if the 1 meg upload limit is exceeded.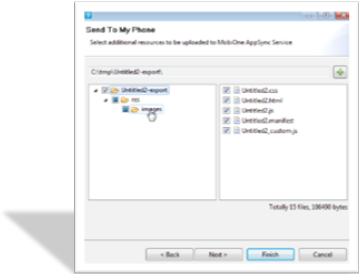 Download the latest version of MobiOne Studio and get started designing and creating your own iPhone Web sites and apps in minutes.