Posted on May 10th 2011
Live from Google I/O, we're pleased to announce the newest IDE on the market; "MyEclipse G." The "G" showcases our laser-focus on Google development technologies for the cloud. As with all our  product lines, MyEclipse G is a robust solution designed for an easy user experience while creating multiple frameworks for Google App Engine. The simple-to-use cloud studio-type functionality automates project architecture and implementation, all with very little time investment from you, the developer or business user.
MyEclipse G website / MyEclipse G early access program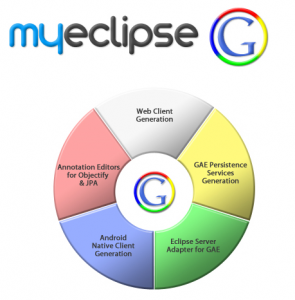 MyEclipse G provides developers with a high-productivity environment to accomplish multiple application development tasks at once; such as simultaneously creating cloud-ready applications for Google Web Toolkit (GWT), Android, Sitebricks, Google Guice, JSF 2.0, Adobe Flex, and more.
The easy-to-use UI generates complete "create, read, update and delete" (CRUD) applications for Google App Engine (GAE) and GAE for Business. MyEclipse G auto-generates all layers from the UI to services and data access all the while integrated with Google Guice. Developers can chose whether their application runs on GAE for Business with JPA and Hibernate or if they will run on regular GAE using Objectify.
It provides Android native client generation that new users will find ready-to-use and easy to understand. Business users can create standalone or networked Android apps that are ready for cloud deployment in just a few minutes. Building networked apps included data synchronization for online and offline use, and anyone can generate code from existing domain models, including DB reverse engineering.
MyEclipse G supports Java EE 6 and HTML5, and is built on the latest Eclipse release, Helios.
When you have a moment, please sign up for the early access program as we'd love to hear your feedback on our exciting new technology.
Cheers!
And here's the team today at Google I/O 2011, we're demonstrating MyEclipse G on the show floor and talking directly with developers for feedback. Thanks for inviting us Google!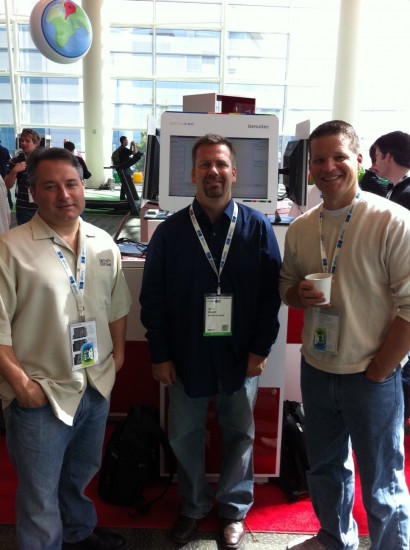 A little later in the day, here we are showing off our wares to folks (5/10/11)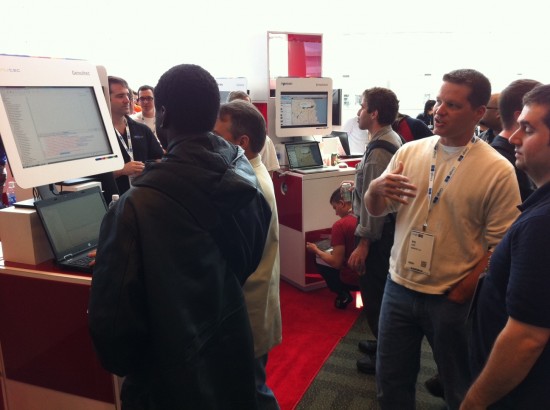 And here's links for coverage on PRWeb and at the renowned software developer publication,  Dr. Dobb's Journal.