Posted on Jul 26th 2011
As announcements go, this one we're psyched about - announcing the Jolt and JAX awarding technology, JRebel for MyEclipse. From  ZeroTurnaround,  JRebel is now available for MyEclipse customers as an easy-to-install plug-in.
30-Day Free Trial / Learn More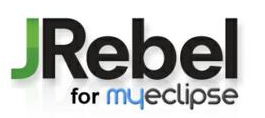 Why are we excited? A lot of technology companies throw around marketing language with lofty software claims that often don't live up to the hype of the actual product, but that's not the case here. Not at all. The JRebel technology is not only the most effective time saver for project redeploys and code visualization, but it works, and in a way that you can't live without once you try it.
JRebel (formerly JavaRebel) is a specialized plug-in that enables developers to see the effects of code changes during development without the need to build or redeploy their application. According to ZeroTurnaround's annual Java EE Productivity Report 2011, this process consumes an average of 10.5 minutes of every coding hour for the median Java EE developer (over 5 full weeks per year). See that report here: http://www.zeroturnaround.com/java-ee-productivity-report-2011
This special JRebel plug-in, which has a free 30-day evaluation period, provides a unique configuration wizard that lets users enable JRebel integration with MyEclipse and the application server of choice, such as IBM WebSphere, Oracle WebLogic, Apache Tomcat, JBoss Application Server, GlassFish, Jetty and others.
David Booth, CEO of ZeroTurnaround remarked,  "We're proud to have prevented over 35 million redeploys for tens of thousands of Java developers worldwide, it's a great development to have the industry's most-used 'redeploy killer' join forces with Genuitec to eliminate restarts and redeploys in Java for a growing population of MyEclipse fans."
In the mean time, check out this video to see this brilliant software combination in action.
If you'd like to learn more, here's an article written in InfoQ covering this news.