Posted on Sep 23rd 2011
---
Update: Development of MobiOne has been discontinued. Read the End of Life Notice for more information.
---
A giant KUDOS to our mobile development team, not only does MobiOne 1.3 look great but it's more powerful than before. Most folks don't realize it, but to make software "easy to use" it requires a lot of hard work, late nights, and plenty of coffee to transform something that is naturally complex into something simple to use. Congrats again, mobile dev team!
What is MobiOne? It's a drag-n-drop Web app designer for iPhone and iPads that requires zero coding skills so anyone can design apps for these popular Apple devices.
Learn More /Version 1.3 Release Notes /Download MobiOne
So what's new in MobiOne?
Introducing Widget Actions (a.k.a Event Handlers)
Configure actions for widget Change and Click events. Choose from 7 predefined actions. Actions are a replacement for the former Link and Link Transiton properties.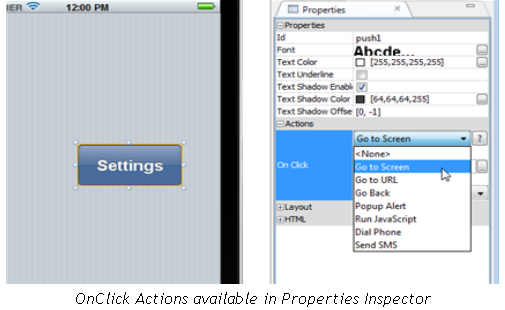 1. New Radio Button Widget
Add multiple radio button widgets to your UI layout and group them by they Group property
2. Improved Input Field, Password and Text Area Widgets
New styling accurately resembles iOS text widgets.
3. New Checkbox Styling
Improved rendering quality of checkbox widgets
4. Panel - Scroll Background
New option to choose if the Panel widget background moves with the panel content during scrolling or remains fixed.
5. Relative Gradient Start and End Positions Percent
In addition to specifying gradient color start and end positions in absolute (X,Y) pixel coordinates you can now specify X and Y positions in relative coordinates using X percent and Y percent. Absolute and relative positions can be mixed such as (10,50 percent).
6. AppSync Optimizations
New 5Mb Upload Limit
Increased the maximum uploadable application size to 5Mb.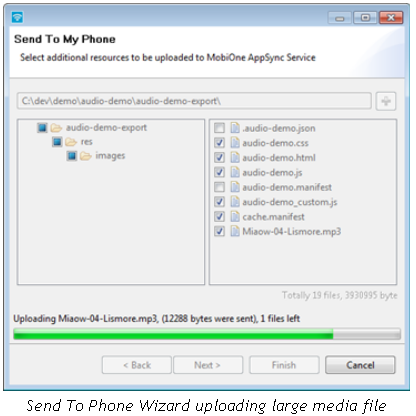 7. New iOS Code-generation Settings Page
A new preference page has been added under the HTML Code Generation page for configuration of iOS and Mobile Safari specific code generation features.
8. Customize Test Center Browser Name
You can now rename the Test Center Browser's name.
**Learn how-to do each of these actions, here**
As we march toward Android capabilities with a few surprises up our sleeve, we know you'll love the new editions to MobiOne. For existing license holders this update is free, or try it today free for 15-days. Download here.