Posted on Aug 21st 2009
When the team was working on Pulse 2.5 they wanted it to be the fastest Eclipse download experience possible. And, while going to eleven would have accomplished that, the Pulse team went one better -- all the way to 12!
What do I mean, you ask? Well, if you're familiar with Pulse you already know it uses several threads to download and install software. The default is four threads, but those of us with awesome connectivity can use the Pulse preference page to double that to eight. Just right click in the navigation section of the Pulse Explorer and open the preference page.
Now it's time to double the capacity and opt for the 'High Utilization' setting to get eight threads working on our downloads.
I know what you're thinking... But what if I not only have incredible connectivity, but I've also got a 4 CPU gaming rig full of solid-state disks. How do pump Pulse up even more when the preferences stop at '8: High Utilization'?
Well, if you want to really max everything out and "go to 12", you'll need to start your download and then click the 'Show transfer details' link.
Now you'll see what Pulse is doing with the eight threads you've already given it. No doubt it's busy downloading from your fastest mirrors with several different strategies. But, have a look at the top of that details dialog. See that 'Add connection' link?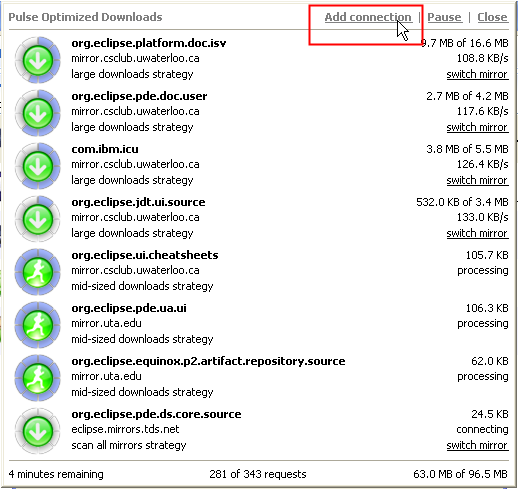 Just click it four times and now you've jacked Pulse up to its real max, all the way to 12. Enjoy the power!