According to a number of surveys, including this one from ZeroTurnaround, Spring is the most popular Java framework on the market with the highest adoption rate among developers. What's interesting is that last year when Skyway Software and Genuitec conducted our own market research, we came to same conclusion - that Spring is where the action is; it's where developers are doing a lot of clean, efficient programming.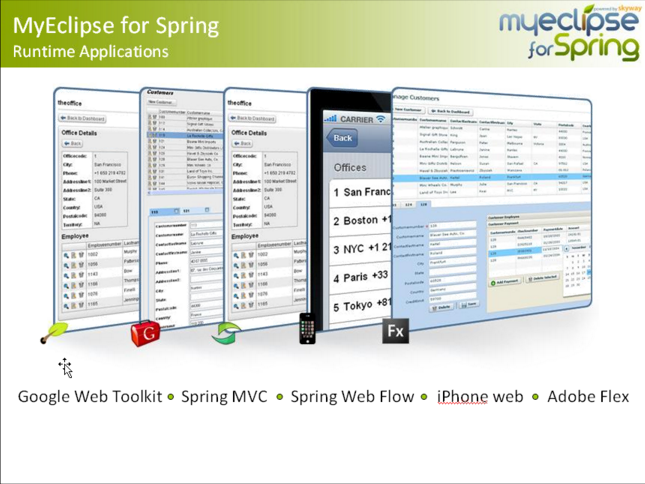 So to capture a piece of the growing Spring market we created MyEclipse for Spring (ME4S) as a means to make a clean language even cleaner, and faster to program to as well. ME4S was designed with a core functionality called "scaffolding," which simply means auto code generation.
Now, this isn't code generation that takes the creativity away from developers, instead it eliminates the mundane coding associated with getting an application up and running; something that can take days to accomplish in Spring - ME4S will do in mere minutes. And the best part is that code can be ported anywhere you desire (it's not limited to use only in ME4S).
That's just one feature of ME4S, but there are many others that make it the premier Spring IDE on the market. As the graphic above depicts, it scaffolds applications for Google Web Toolkit, Spring MVC, Spring Web Flow, the iPhone, and Adobe Flex.  Can the standard flavored Spring do that? Didn't think so.
Try ME4S free for 30 days. And, if you decide to upgrade your Spring experience it's just $99 annually for a fully supported Spring IDE.
Happy programming. :)
---
Posted on Feb 10th 2011