Posted on Feb 20th 2013
As someone who works in the software world, I'm always on the prowl for the latest innovations, the newest IT trends and secretly hoping  the Back to the Future hoverboard will suddenly become available at my local Super Target.
This week while juggling my lunch over my computer, I stumbled across a complete Jetsons' fantasy land! BusinessWeek ran an article by Brad Stone on a company called SmartThings who is currently working on advancements for my dream home, a home that runs itself.  SmartThings is actively developing smart home technology to connect  electronics and appliances over the cloud to each other and to consumer's smartphones.  As a working mom, these types of innovation are incredibly exciting.
One of the other things that really spoke to me in this article was the approach being taken by SmartThings. They are hoping to create a breeding ground for innovation by working with a community of hackers and developers and supplying them with  development tools. In turn, SmartThings hopes to receive a wealth of new ideas and prototypes that have been generated with their technology.  You can read the full BusinessWeek article here.
This approach of reaching out to the community, is not a new approach, however, it is an approach that is sadly underutilized. To me, it makes perfect sense as being focused on a specific goal often clouds our ability to navigate other options. It's the principle of two eyes being better than one.
This approach also makes me incredibly proud to work for Genuitec, who has been nurturing innovation in this fashion for years.  We have exciting ideas all the time, but we also recognize that our customers, colleagues, and competitors have great ideas too. You may have an amazing idea but lack the backing to see it to fruition, and we'd like to help! We're always thrilled to aid entrepreneurs with innovating the latest technological advancements.  If you have an idea for the next breakthrough, I would encourage you to check out our Eclipse Venture Fund.
I look forward to hearing about the technological rabbit trails you're on!
- Iris Meneley
=====================================================
About the Blogger: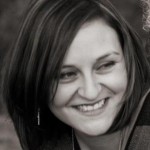 Iris is the Social Media & Public Relations Coordinator for Genuitec, where she has been in employ since 2010.  She is a wife and mother, an avid reader, a movie junkie and enjoys organizing to excess.