In this free 45-minute webinar, you will see how to install, configure and begin using JRebel for MyEclipse.
Join us Thursday, August 4 at 2pm EDT.
Webinar Sign up / 30-Day Free Trial / Learn More
**Note: Linux users should download "Wine" before signing on to GoToWebinar sessions: http://www.winehq.org
JRebel for MyEclipse is an easy-to-setup plugin that takes the popular JRebel for Eclipse package and adds specialized integration with our MyEclipse IDE. This special JRebel plugin, which has a free 30-day evaluation period, provides a unique configuration wizard that lets users enable JRebel integration with MyEclipse on a specific application server, such as IBM WebSphere, Oracle WebLogic, Apache Tomcat, JBoss Application Server, GlassFish, Jetty and others.
Get more product details, here.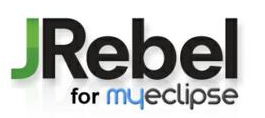 ---
Posted on Aug 1st 2011